Pipe Threading Machines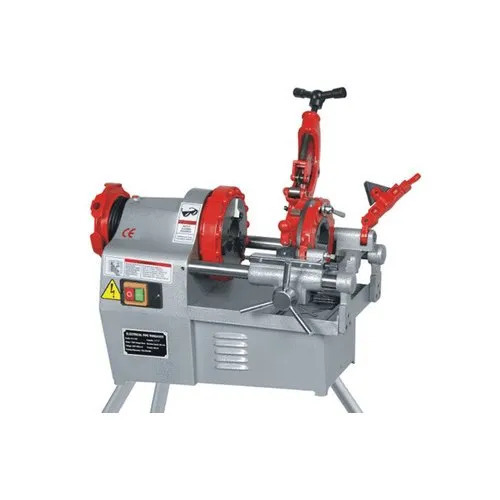 Pipe Threading Machines
Product Description
We bring forth an advanced line of Pipe Threading Machine that is truly sophisticated and true to our quality claims. These machines are manufactured in complete sync with laid industry standards, and are immensely appreciated for quality and durability. Not only are these made as per latest technology but are also engineered using high grade raw material, which ensures that designed Pipe Threading Machine remain resistant to any form of wear and tear, breakage & abrasion.
Range of IMC Die Heads in our range:

1/4 to 1 capacity
3/8 to 1.1/2 capacity
1/2 to 2.1/2 capacity
1 to 4 capacity
2.1/2 to 6 capacity
4 to 8 capacity
These high-tech and advanced machines require very less human intervention for operations. The automation of the process guarantee efficiency and quality consistency, which is not always possible with manually operated machines. The sturdy construction of the machine ensures no event of regular breakdowns even if it is continually operated. A threading machine is composed of a bed, saddle and apron, made from high in grade materials.
Pipe Threading Machine Specifications:
| | | | | | | |
| --- | --- | --- | --- | --- | --- | --- |
| Model | 1/4 to 1 | 3/8 to 1.1/2 | 1/2 to 2.1/2 | 1 to 4 | 2.1/2 to 6 | 4 to 8 |
| Saddle Movement | 10 | 10 - 12 | 12-16 | 10-12 | 10 - 12 | 10-12 |
| Spindle Speed Range | 60-90 | 60-90 | 60-90-120 | 40-75-115 | 25-50 | 25-50 |
| Number of Spindle Speed | 2 | 2 | 3 | 3 | 2 | 2 |
| Threading Capacity | 1/4 to 1 | 3/8 to 1.1/2 | 1/2 to 2.1/2 | 1 to 4 | 2.1/2 to 6 | 4 to 8 |
| Production per Hour | 60-80 | 60-80 | 70-90 | 35-40 | 20-25 | 15-20 |
| H.P. Required | 3 H.P. | 3 H.P. | 7.5 H.P. | 12.5 H.P. 960 | 15 H.P. 960 | 20 H.P. 960 |
| Lead Screw | Optional | Optional | Optional | Provided | Provided | Provided |
| Weight (KG) Aprox. | 500 | 550 | 990 | 1600 | 1900 | 2500 |
Contact Us
E452, Phase-6 Focal Point, Ludhiana, Punjab, 141002, India
Phone :+918045478450